SEE OUR XERP FEATURE & MODULE
SCREENSHORT
About

Project
In a digital world, ERP Forecasting Supply Chain Management Software is very useful to us & business success is defined by agility and speed. Legacy ERP software has been stopping your business from achieving its full potential. Our ERP Software (XERP) solution with greater agility and also business intelligence- achieve the results faster. 
XERP: Highly Recommended ERP Software in Bangladesh
ERP stands for Enterprise Resource Planning. It is a software that manages a company's financials, supply chain, operations, commerce, reporting, manufacturing, and human resource activities.
More than 500 companies are using our XERP, 500 companies including Garments/Textile factories, Plastic manufacturing industries, Flour mills, GEO bag manufacturer, Spinning mills in Bangladesh and abroad. The software is a world-class ERP Software in Bangladesh very suitable for businesses perfectionist companies having industrial production-oriented or any trading based business
Custom ERP For Your Business
Our ERP software provides an integrated view of core business processes in real-time.
XERP Software processes business Resources:
Materials requirements planning

Sales orders pipeline and delivery

LC & local purchases

 Warehouse & inventory

Production with BOM

Accounting & payroll, etc.
XERP is an out-of-the-box best ERP Software solution in Bangladesh, for companies who want to implement a highly dependable ERP Software system into their business operations.
XERP Software concentrates on all the business information in one place, which can dispense with the issue of synchronizing changes between multiple systems, and allow the management team to get a more exact perspective of the business' data. Many industrial production-oriented companies in Dhaka & Chittagong are using XERP software as their enterprise resources data management system.
| | | | |
| --- | --- | --- | --- |
| Sl | Contents |   | Page# |
| 1. | Preface | —————— | 02 |
| 2. | Project Modules | —————— | 03 |
| 3. | Why XERP? | —————— | 04 |
| 4. | System Requirements | —————— | 05 |
| 5. | Software Details | —————— | 06 |
| 6. | Financial Proposal | —————— | 14 |
| 7. | Development Strategy | —————— | 15 |
| 8. | Service & Delivery Milestone | —————— | 16 |
| 9. | Testing & Implementation Plan | —————— | 17 |
| 10. | Company Profile | —————— | 18 |
| 11. | Clients List | —————— | 19 |
| 12. | Service Agreement | —————— | 29 |
| 13 | Software Screenshots | —————— | 32 |
2005-2022 Extreme ERP All rights reserved
Warning: This document contains proprietary and confidential information. All data submitted was provided in reliance upon its consent not to use or disclose any information contained herein except in the context of its business dealings with "Extreme Solutions". The recipient of this document must not disclose any information and also agrees not to duplicate or distribute or permit others for any material contained herein. "Extreme Solutions" reserve all rights for titles, ownership & intellectual properties and trademarks contained in this proposal, including all supporting documentation, files, technical presentations & marketing materials.
Supply Chain Management System
In a digital world, ERP Forecasting Supply Chain Management business success is defined by agility and speed. Our MRP Software (XERP) solution with greater agility and business intelligence will achieve the results faster. Based on the initial study of your requirements, we are offering a cloud system with combined modules of-
Technologies Used for Development
Why you should choose XERP software?
Modern: Always up-to-date with all the recent framework and technologies
Cloud compatible: Web-based real-time MRP Software
Experienced & Stable: More than 15 years in the market
Layered: 5 Tier Architecture, Agile based development
Security: Highly Secured and built-in hacking protection system
Portability: Full featured modules work combined in one app
Data Storage: Integrated and linked modules with one centralized database system
Scalability: Highly scalable Database System made for cloud computing
Easy: User friendly interface designed with mobile first approach
Configurable: Customization possibility for any sized & types business system
Controllable: Unlimited user accounts controlled by Super Administrator
Stable: Highly cached, Master Page and theme-based development
User Experience: Light weight mobile responsive UI designed for high data traffic
Secured: Non-injectable Parameter based data transfer for high data security
Authorization: Menu and Form level access Authentication- controlled by Administrator
Balanced: Sessioning with Safe view-stat & authorization system
Accountable: User Audit Trails for tracing any types of user activities
Mechanism: Highly flexible ERP software with business intelligence
Independence: Flexibility to run swiftly for any size of users.
Combining your requirements, bellow goals has been set for the final system:
Highly customizable MRP software with integrated modules.
Full featured out of the box cloud MRP software with the flexibility to run swiftly for any size of users.
The System will be integrated in a web server environment and a centralized database will be used for data processing system.
The workstations (Computer or any other smart devices) would be anywhere and will be used for accessing the master database through web browsers internet connection.
Minimum requirements for setup the Server Machine:
Intel Core i5 Processor 6th generation or later (Intel Xeon for max performance)
8GB RAM (32GB RAM for max performance)
256GB SSD Storage (512GB NVMe SSD + 7200RPM HDD for max results)
50mbps(upload)/20mbps (download) Connection (100 mbps for max performance)
Operating System: Windows Server 2019 Standard
Database: SQL Server 2019 Express (Enterprise version for max performance)
Crystal reports for VS XIII or later
SSL Certificate installed for Data Security
ESET File Server Security as Antivirus Software
Malwarebytes Endpoint Security for Anti-Malware protection
SQL Server Backup & FTP as Database Cloud Backup Software
1200VA or more capacity (Online/Offline) UPS only connected to the server
1200VA or more capacity IPS witha 12V, 20AH battery only connected to the UPS
Any types of devices (Mobile, Tablet PC, Desktop Computer, Laptop Computer with any operating system like Windows, MacOS, Linux Chrome OS, Android or iOS) which support Google Chrome Version 50 or later
Auto Prediction Based Supply Chain Management System
Primary goal of the Software
Execute all purchase related tasks on time
Auto prediction based upon date limits
Notify responsible person/s if a date exceeds
Automatically follow-up important dates
Set days for Actions and notifying Management
Predict a execution date from previous action date
standard time will be set for a specified task section
If the time exceeds, the concerned persons will be notified
If a responsible person delays his assigned tasks or misses a deadline it will be notified to his bosses
If he delays more the upper management and the top management will be notified to follow-up automatically
Summary of Orders
List of On-going Orders with Predictive Analysis
Graphical Presentation by different statistics
Item Groups
Sub-Group
Grade/ Type
Category
Item Names (with width & length indications)
Units
Colors
* Item Setup is will not be included in package if you prefer to upload products using Excel files onl
Vendors (Suppliers)
Freight Forwarders
CNF Agents
Manufacturers
Import Agents
LC Banks
LC Insurances
LC Countries
Transport Agents
Item Types
Referrers
LC Expense Types
LC Expense Heads
PO Entry by Merchandisers
Send (Auto Email) PO to Suppliers
PI Received& attach with Quotation submit form
Freight Forwarders Quotation Submission (visiting a temporary URL)
Assign a Freight Forwarder for the Job
Create LC/ LC InfoEntry with-

Estimated LC Open Date
Expiry Date
Ship Date
Arrival Date
Port Delivery Date
Warehouse Receive Date

Shipment Confirmed
LC Status Updates Entry (by Merchandisers, Forwarders and Suppliers)
Received to Port
LC Port Formalities and Costs Entry

Insurance Related Expenses Entry
Bank Charges Entry
Duty Related Expenses Entry
CNF Comm. Entry
Transport Cost Entry
Other Expenses

LC Closed(Item Receivedto Warehouse)
Days of prediction vs actual days taken report
Forwarder wise report
List of ongoing Purchase Order
Status wise searching among PO & LC
Differential Comparisons of Times & Actions
Lowest & Highest Performing Users
Lowest & Highest Performing Vendors
User Role Based Approval System
Delay/ Action Taking auto SMS, Email & Software Notification to Assigned Persons
List of On-going Orders with Predictive Analysis
List of Ongoing LC Status with Estimated Delivery Date
Comparison of Estimated and Actual LCs
Prediction based Comparison of Dates
Received LC Dates Comparison by Items & Suppliers
Received LC Dates Comparison by Suppliers & Forwarders
LC By Date Range
LC Expense Report
LC Wise Expense Summary
LC Expense Details
Party Ledger
LC Detail View
Item Costing Comparison
LC Items Status
LC Payment History
Search LC Info by any Criteria
Please Note:
The name of these reports are for information purpose only. We will develop all the reports you want as per your design specifications.
All our developed reports can be exported to PDF, MS Word, MS Excel and all other essential formats
Software Administration & Security Management
Login Screen
Personalized Dashboard for Management Information System
Web View Mobile App Developed in Flutter technology
Cross Platform Compatible
Android Installer APK Package
iOS Installer Package
UI is Compatible with any smart devices and mobile browsers
Multi users with multi authorization types
User activities monitoring
Time based Multiple User Data-Entry Management
Alert notification for getting users attentions
Internal messaging system
Central notice board
Transactional SMS/ Email Integration
Show All Reports Available in the Web Applications
We are offering you this financial proposal for development and maintenance Services.
XERP Software with customization services (1 Unit)
Suppliers Management
Forwarder Management
Purchase Order Management
Booking Management
Import LC Management
Payment Management
Alerts & Notifications Management
Reports & Statement Module
System Administration & Security Management
Mobile App with Management Information System
Mobile App (Android & iOS)
Customizations, Install, Training and Service/Support for 12 Months.
In words: Taka SixLac Fifty Thousands Only.
** The price is for 01 instance installation to 01 server machine with 01-year service & supports.
Payment Terms:
40% of Software Development cost will be paid upon work-order
50% during software delivery (RC1 in Delivery Milestone: Page#14)
Rest 10% after3 months from the date of live data entry
AMC (Annual Maintenance Contract)
We are Offering 1,00,000 tk. For Each Year's AMC for the next 05 years AMC contract after the 01 years free service period expires.
We maintain XP (Extreme Programming) methodology for engineering practices and writing good code. It combines the most essential, providing Agile teams with a number of tools to optimize the engineering process. Extreme Programming is a set of certain practices, applied to software engineering in order to improve its quality and ability to adapt to the changing requirements. Our practices with XP are:
test-driven development
continuous integration
pair programming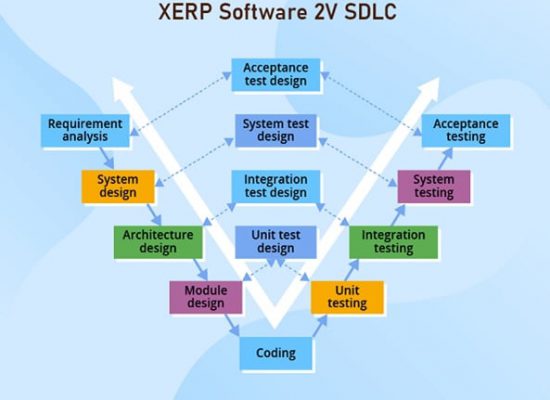 We follow 2V-model (Validation and Verification model) as our development strategy. The model utilizes with each stage having a corresponding testing activity and implies exceptional quality control.
Service Scopes & Delivery Milestone
Planning: After receiving the work-order with Signing Money, our software engineers and R&D team will visit your factory to collect existing datasheets. Then we will create a development plan to modify into XERP Software within 10 working days.
Development- Alpha1:All required Form Layouts, Menu Links and DB Tables will be created within next 10 working days.
Development- Alpha2: All business logic coding works will be done within next 45 working days.
Development Phase#Beta1: Start training to the users and enter test data to the system. Features Testing, QA & bugs fixing will be done within next 15 working days. All required Reports will also be created within this time.
Implementation Phase#RC: Features customization as per users' final requirements and start live data entry within next 10 working days.
Production Version: Software will be ready for live data entry within 90 working days from the date of work-order. The web-view Mobile Apps will be delivered after confirming all features are working perfectly.
Users can ask for customization till the service contract expires. The free service contact period will be expired after 12 months from the date of work-order.
Annual Maintenance Contract (AMC):Before the service period expires, we will ask for annual maintenance contract.
Testing & Implementation Plan
After that the engineers write the code, focusing on the functionality to make the test pass. As soon as it's done, the source code will be improved to pass all the tests.
The they will start the Code refactoring procedure. It is a process of constant code improvement through simplification and clarification. The process is solely technical and does not call for any changes in software behavior.
Extending the source code with each iteration, our software development team use refactoring as a way to weed out code clutter and duplications. This helps prevent software rot, keeping the code easy to maintain and extend.
To mitigate iteration problem in SDLC, we use of pair programming, test-driven development and test automation, continuous integration (CI), small releases, simple software design and prescribes to follow the coding standards.
ERP Software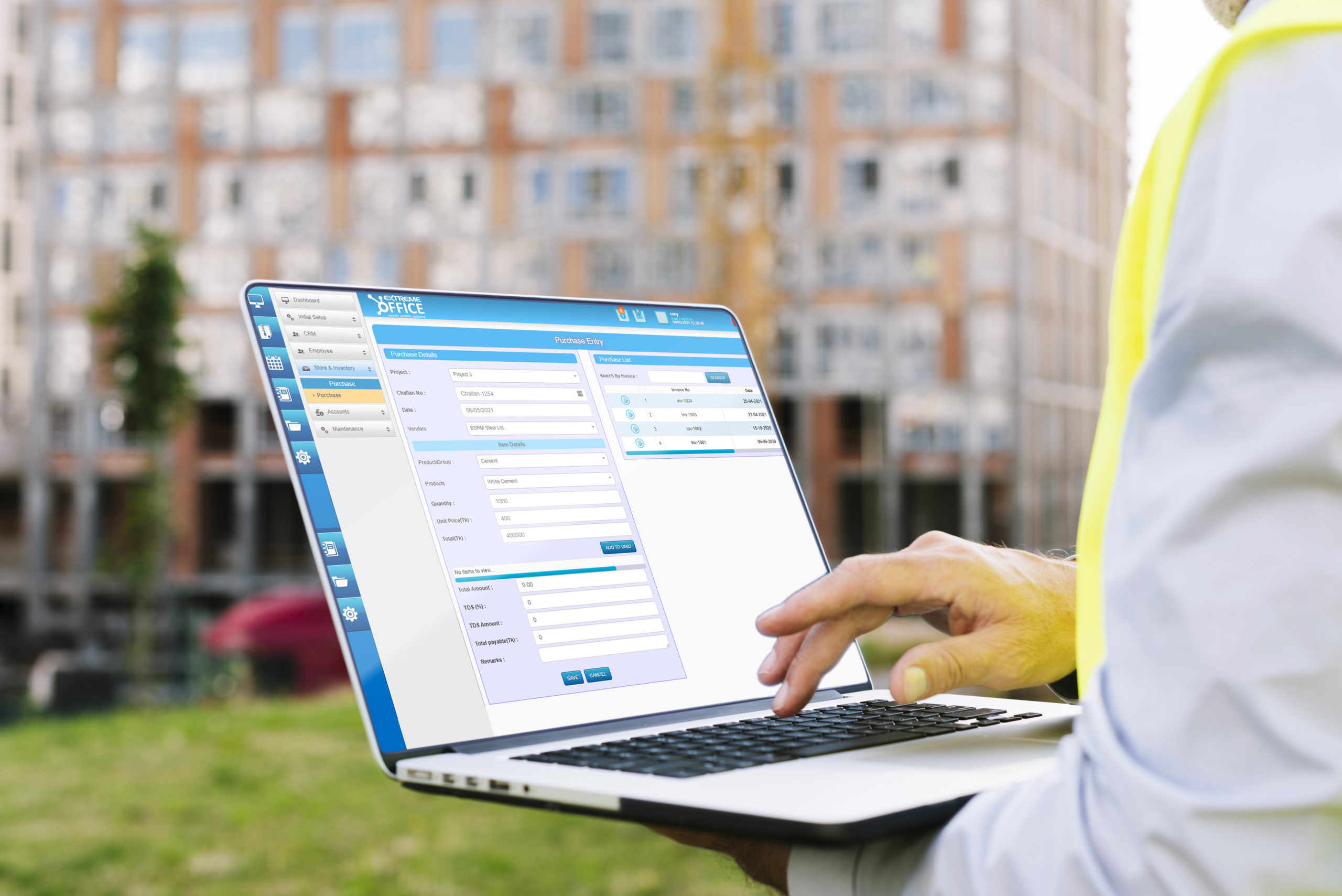 Author Rating
XERP
ERP Software for CHEMICALS Manufacturing Company
5000-50000 USD
Product Availability