SEE OUR ACCOUNTING SOFTWARE FEATURE & MODULE
SCREENSHOT
About

Project 
Managing business accounting of multiple branches across various locations comprises huge challenges. Just maintaining accounting data with your system will not make you a clear-cut analysis of your accounting at multiple branches. With the use of a software system dedicated to accounting, accounting work will become simpler and everything will stay well organized.
Businesses having many branches and retail shops will need to handle accounting with more care since it involves critical data to be managed and therefore business owners expect accounting software that makes them know what is happening in all branches and outlets by accessing the software.
Hence, it is essential to incorporate effective accounting software that can act as multiple-branch management software for your business.
Multiple Branch Accounting Software
Branch-specific accounting software maintains the accounting data of each branch or operating location of an organization separately to avoid confusion. Multi-Branch Accounting software is the one that manages all branches under the head/central branch so that administrators or managers of the central branch can view all branch-related accounts from one place.
You can view each and every transaction, cash flows happening in every branch. All branches ' reports will fly through the cable and reach the central branch system. Hence the overall financial performance of every branch can be monitored easily which will help to improve the business in all aspects.
2005-2022 Extreme Solutions All rights reserved
Warning: This document contains proprietary and confidential information. All data submitted was provided in reliance upon its consent not to use or disclose any information contained herein except in the context of its business dealings with "Extreme Solutions". The recipient of this document must not disclose any information and also agrees not to duplicate or distribute or permit others for any material contained herein. "Extreme Solutions" reserve all rights for titles, ownership & intellectual properties and trademarks contained in this proposal, including all supporting documentation, files, technical presentations & marketing materials.
The Cloud Accounting Software
In the digital world, business success is defined by agility and speed. Our Cloud Accounting Software with greater agility and business intelligence will achieve results faster. Based on the initial study of your requirements, we are offering a cloud system with combined modules of-
Technologies Used for Development
The names of these modules are for information purposes. We will modify the existing features as per your specification if required.

All our developed reports can be printed and exported to PDF, MS Word, MS Excel, and all other essential formats.
Why you should choose Extreme AccountingSoftware?
Modern: Always up-to-date with all the recent frameworks and technologies

Cloud compatible: Web-based real-time AccountingSystem

Experienced & Stable: More than 17+ years in the market

5 Tier Architecture, Agile based development

Highly Secured and built-in hacking protection system

Full-featured modules work combined in one app

Integrated and linked modules with one centralized database system

Highly scalable Database System made for cloud-computing

User-friendly interface designed with a mobile-first approach

Customization possibility for any size & type of business system

Unlimited user accounts controlled by SuperAdministrator

Highly cached, Master Page and theme-based development

Light-weight mobile responsive UI design for high data traffic

Non-injectable Parameter based data transfer for high data security

Menu and Form level access Authentication- controlled by an administrator

Seasoning with Safe view-stat & authorization system

User Audit Trails for tracing any type of user activities
Combining your requirements, bellow goals has been set for the final system:
Highly customizable Accounting software with integrated modules.

Full-featured out-of-the-box cloud accounting software with the flexibility to run swiftly for any size of user.

The System will be integrated in a web server environment and a centralized database will be used for data processing system.
The workstations (Computer or any other smart devices) would be anywhere and will be used for accessing the master database through web browsers internet connection.
Minimum requirements for setup the Server Machine:
Intel Core i5 Processor 6th generation or later (Intel Xeon for max performance)

8GB RAM (16GB RAM for max performance)

256GB SSD Storage (512GB NVMe SSD + 7200RPM HDD for max results)

50mbps(upload)/20mbps (download) Connection (100 Mbps for max performance)

Operating System: Windows Server 2019 Standard

Database: SQL Server 2019 Express (Enterprise version for max performance)

Crystal reports for VS XIII or later

SSL Certificate installed for Data Security

ESET File Server Security as Antivirus Software

Malwarebytes Endpoint Security for Anti-Malware protection

SQL Server Backup & FTP as Database Cloud Backup Software

1200VA or more capacity (Online/Offline) UPS only connected to the server

1200VA or more capacity IPS with 12V, 20AH battery only connected to the UPS
Any type of devices (Mobile, Tablet PC, Desktop Computer, Laptop Computer with any operating system like Windows, macOS, Linux Chrome OS, Android, or iOS) which support Google Chrome Version 50 or later
Existing & Proposed Features
Employee

Warehouse

Party Area

Bank Account Info

Customer/Suppliers

C&FAgents

TransportAgents

Insurance agents

PurchaseZones
Product Category

Product Information

Product Description

Models Setup

OME Number

Brand Setup

Origin Setup

Unit Type Setup

Size Setup
Stock Lookup

Stock Transfer

Current Stock

Stock Register

Stock Summary
PurchaseEntry

PurchaseSummery

PurchaseReturn

Suppliers Ledger

Vat Payment
Sales Report

Direct Invoicing

Customer Ledger

Sales Warranty

Warranty Report

Due Sales

Vat Receive
Upload Document

Download Document
Human Resources Management (HRM)
Holidays

Employee Information
Attendance Data

Leave Management

Salary Process
Employee Salary Setup

Salary Adjustment

Employee Salary Increment

Advance
Salary Report

Bonus Report

Loan Report

Leave Report
Financial Accounting Management
Particular

Subsidiary Account

Control Account

Account Head

Voucher Entry
LC Expense Types

LC Expense Heads

LC General Info

LC Status Updates

LC Amendment

LC Finalization
LC By Date Range

LC Expense Report

LC Expense Summary

LC Expense Details

Party Ledger

LC Detail View

Item Costing Comparison

LC Payment History

Search LC Info
Chart of Accounts

Bank Book

Income Statement

Income Statement

Details

Trial Balance

Trial Balance Details

Balance Sheet

Balance Sheet Details

Cheque Register

Sub A/C Ledger

Trade Receivables

Control A/C Ledger

Trade Payable

Collection Summary

Profit by Month

Employee Ledger

A/C Head Ledger

Product List
Secured Administration & User Panel

Run from a centralized Windows Server

Compatible with any smart devices and mobile browsers

Multi-users with multi-authorization types

User activities monitoring

Time-based Multiple User Data-Entry Management

Alert notification for getting the user's attention

Internal messaging system

Central notice board

Transactional SMS/ Email Integration (Optional)

Searching & reporting data by any criteria
Post News to Scroll

Send a Message to the User

Edit News

All News Updates

Received Messages
We are offering you this financial proposal for development and maintenance Services.
Cloud Accounting with HRM Software (Multi-User. Multi Branch)
Customer Management
Sales Management
Purchase Management
LC Management
Inventory Management
Multi-Branch Management
Human Resources Management (HRM)
Financial Accounting System
VAT Management
Document Library
Reporting
Service & Maintenance Management
System Administration
Customizations, Install, Training, and Service/Support for 1 years
In words: Taka Two Lac Thirty Thousand Only.
** The price is for 01 instance installation to 01 server machine with 01-year service & support.
Payment Terms:
50% of Readymade Software installation cost will be paid upon work-order

30% initial delivery after Complete development work 

Rest 20% after the complete handover
AMC (Annual Maintenance Contract)
AMC contract will start from 25% of total software cost for 1 year
We maintain XP (Extreme Programming) methodology for engineering practices and writing good code. It combines the most essential, providing Agile teams with a number of tools to optimize the engineering process. Extreme Programming is a set of certain practices, applied to software engineering in order to improve its quality and ability to adapt to the changing requirements. Our practices with XP are:
test-driven development

continuous integration

pair programming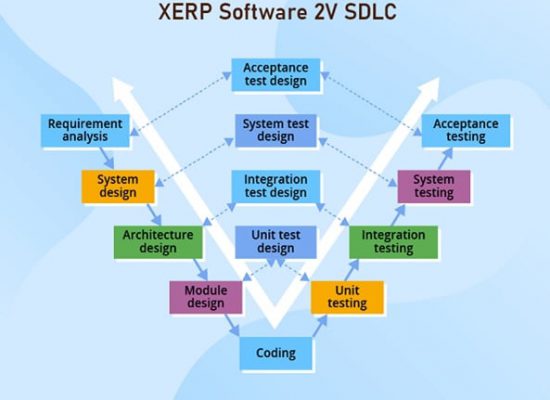 We follow 2V-model (Validation and Verification model) as our development strategy. The model utilizes with each stage having a corresponding testing activity and implies exceptional quality control.
Service Scopes & Delivery Milestone
Implementation Phase#RC1: The Software is Ready for live data entry. We will install the full software for live data entry. Module-wise Trial and outcome testing by operational departments will be done within 15 working days

Implementation Phase#RC2: Features customization as per users' final requirements and give a final trial for live data entry within the next 15 working days.

Production Version: Users can ask for customization till the service contract expires. The free service contract period will be expired after 12 months from the date of the work order.

Annual Maintenance Contract (AMC): After the service period expires, you can ask for yearly service or software source code based upon the following conditions-

AMC contract will start after the 1 years free service period expires from 10,000 BDT.
Testing & Implementation Plan
After that the engineers write the code, focusing on the functionality to make the test pass. As soon as it's done, the source code will be improved to pass all the tests.




The they will start the Code refactoring procedure. It is a process of constant code improvement through simplification and clarification. The process is solely technical and does not call for any changes in software behavior.

Extending the source code with each iteration, our software development team use refactoring as a way to weed out code clutter and duplications. This helps prevent software rot, keeping the code easy to maintain and extend.

To mitigate iteration problem in SDLC, we use of pair programming, test-driven development and test automation, continuous integration (CI), small releases, simple software design and prescribes to follow the coding standards.